Ride on Mower, Ride On Mower Mulching
ATCO GTX 36H Ride On Mower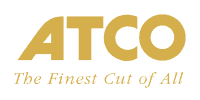 ---
ATCO GTX 36H Twin Features
Powered by a STIGA ST 600 Twin Cylinder Engine.
Fitted with a large 290-litre collector with an alarm system when full.
Has a tow-bar to fit even more accessories making your mower even more versatile.
92″ cutting width.
Cutting height range 25 mm to 80 mm with 7 positions.
Optional Mulching kit available for purchase.
£3,905.00
ATCO GTX 36H Twin – Smooth, Efficient, Easy.
The ATCO GTX 36H Twin is powered by the STIGA ST 600 twin-cylinder engine. This ride-on mower is perfect for land up to 2.5 acres.
This mower has hydrostatic transmission, this allows the mower to go forward or backwards at infinitely variable speeds using a foot pedal. The front of the pedal makes the mower go forward, while the heel of the pedal will make it reverse. This allows you to mow every inch of your lawn with ease.
The GTX 36H Twin has a cutting deck size of 92″ powered by twin contra-rotating blades allowing for a fast, fluid and effortless finish. The discharged grass is blown into a collector which has a capacity of 290 litres leaving your lawn clean when finished. It also features an alarm system that will sound when the collector is full notifying the driver when it needs emptying. Emptying the collector is done from the driver's seat leaving more time to tend to your property and less time managing the mower.
The twin blades are engaged or disengaged via an electronic clutch. This clutch is easy to reach and also disengages the blades within 3 seconds ensuring maximum safety.
A mulching plug is included to ensure your soil is in the best condition it can be. Mulching is not only better for your soil but better for you. Leaving the mulch field eliminates the need to empty the collector, leaving your soil with more nutrients and you with more time.
The front bumper is a standard fitting, also coming with a tow-bar attachment. This allows you to fit your mower with even more accessories making it the ultimate piece of garden machinery.
An optional long grass rear deflector is also available for purchase.
| | |
| --- | --- |
| Brand | ATCO |
| EAN/UPC | 8008984853034 |
| SKU | 2T0785447/AT1 |
| Cutting method | Collecting |
| Minimum uncut radius | 80 cm |
| Cutting width | 92 cm |
| Reverse mowing | Yes |
| Blade rotation | Timed |
| Cutting height adjustment | Manual with lever |
| Cutting height positions | 7 positions |
| Cutting height range | 30 – 90 mm |
| Number of blades | 2 |
| Blade type | Winged |
| Additional cutting method | Rear discharge, Mulching |
| Blade engagement type | Electric |
| Transmission method | Pedal-operated |
| Transmission type | Hydrostatic |
| Power | 11.2 kW |
| Power source | Petrol |
| Engine Brand | STIGA |
| Engine model | ST 600 Twin |
| Displacement | 586 cm³ |
| Engine rotation speed | 2700 rpm |
| Battery Voltage | 12 V |
| Choke | Manual |
| Engine cooling | Air |
| Fuel tank capacity | 7 l |
| Maximum working area | 2.5 |
| Battery capacity | 18 Ah |
| Traction | Rear-wheel drive |
| Collector emptying | Manual |
| Collector capacity | 300 l |
| Steering wheel | Atco ergonomic with soft grip |
| Seat type | Atco comfort |
| Seat adjustment | Screws |
| Dashboard | Yes with multifunctional display |
| Front wheel size | 15×5.00-6 |
| Rear wheel size | 18×8.50-8 |
| Headlights | Conventional |
| Bumper | Yes |
| Washing link | Yes |
| Collector type | Textile |
| Storage compartment | Yes |
| Cup holder | Yes |
| Pivoting front axle | Yes |
| Safety system | Seat with Safety Contact Breaker |
| Pack weight | 275 kg |
| Product length | 2550 mm |
| Product width | 1060 mm |
| Product height | 1310 mm |
| Weight | 225 kg |
| Mulching kit | Optional |
| Battery charger | Optional |
| Trailer hitch kit | Optional |